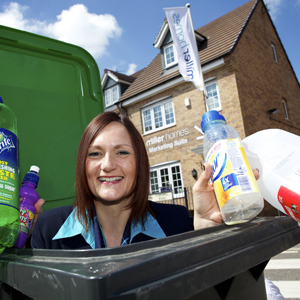 It's national Recycle Week this week (17 – 23 June) and as it's the 10th anniversary of this initiative there's never been a better time to look more closely at how we can contribute positively to the environment around us.
With local councils providing recycling facilities both on our doorstep and in our communities, there's no excuse for not being a responsible home owner. However, it's important to remember that it is no just about putting your cereal packaging in the correct box; there's so much more that we can do and it's important that we all take our home recycling initiatives to the next level to ensure we keep our carbon footprint as low as possible.
Here are some of tips for recycling at home:
- Ensure you understand exactly what your kerbside recycling will take and what they won't – contact your local council for specific information.
- Recycle your packaging waste but also your unwanted clothing, toys, shoes etc.
- Dispose of unwanted paint and similar products through recognised channels to limit pollution of waste sites and water systems.
- Recycle used batteries, electrical items and printer cartridges instead of disposing of them in standard household waste.
- Encourage children to recycle at home and at school – think of all the paper and packaging they must use at school!
- Recycle food waste through a garden compost heap or 'Bokashi' bin.
And if you'd like to find out more about what we at Miller Homes are doing as a business to be more sustainable, click here for our 2012 Sustainability Report.
Garry McDonald
Procurement & Sustainability Director
Miller Homes
Published:
19 June 2013 at 11:06