Helping Homebuyers Make a Move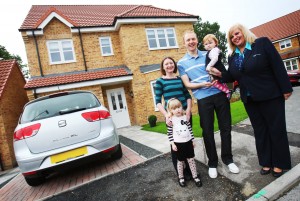 Following yesterday's announcement by the Scottish Government about
MI New Home
it's great that we now have such a fully comprehensive range of
incentive schemes
to help potential homebuyers across both Scotland and England.
If finding a large deposit is the stumbling block to purchasing a new home – and we know this has been the case for many looking to move - both MI New Home in Scotland and
NewBuy
in England can help bridge that gap.
Both incentives enable those who meet the qualifying criteria to purchase a new build property with as little as a 5% deposit. Lenders participating in the scheme will offer up to a 95% mortgage on homes up to the value of £250000 in Scotland and £500000 in England.
We're delighted to be able to offer these incentives because we know they can make a real difference to those who wish to buy. For example we recently helped the Newman family in County Durham move into their dream four bedroom detached home at our Heather Lea Green development in Crook through the NewBuy scheme.
As well as struggling to sell their own home the Newman family found it difficult to find a big enough deposit to secure a large family home. They liked the properties at our Heather Lea Green development so approached us for help and support.
Our sales advisor at Heather Lea Green advised them to rent their current property and utilise NewBuy to enable them to purchase their new home. This proved to be the perfect solution for them and allowed them to make a move which they just didn't think would be possible.
We have over 70
developments
across the UK and offer a huge variety of properties and locations to suit the needs of all types of buyers. Adding these incentives into the mix means we are really well placed to helping aspiring homeowners or second steppers like the Newmans make their dreams become a reality.
Chris Endsor
Chief Executive
Miller Homes
Published:
13 September 2012 at 04:09