Five top tips to get your home ready for the winter months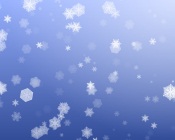 With plunging temperatures and darker evenings each week the summer days are definitely over.
To be honest you might be relieved to finally have a reliable season ahead. Despite the frosty bite winter generally does exactly what it says on the tin and this does mean that any home preparation you make whether it is frugal groundwork to tackle those energy bills or extra insulation to keep the evening chill at bay is well worth it.
And knowing a fair few things about homes ourselves (it's hard not to with over 80
developments
throughout the UK) we decided to share a few tips for beating all that winter might have to throw at your home.


Heat Efficiency - More than 80 per cent of home energy use is for heating and hot water so it's important to make sure you're using your heating system in the most efficient way possible. Using a thermostat for your radiators and hot water means you won't waste unnecessary energy and you'll very likely shave a bit off that utility bill. Also if you're looking to move visit www.millerhomes.co.uk – new homes are really energy efficient with new heating systems windows and better insulation.


The illusion of warmth – Nearly just as important as actual warmth is creating a warm and inviting atmosphere. With the festive period upon us this shouldn't be too hard. Festive colours candles and homely scents always give the impression of warmth. If you've reserved a new Miller Home you can even choose from a wide range of options that help make your new home just the way you want it – perfect timing to decide on warm colours and textures that you'll want to decorate with once you've moved in.


Wrap up – there'll be a fair amount of wrapping over the next 6 weeks but possibly the most important will be for your home. It's quite literally time to feather your nest so if you haven't already replace your summer duvet with its winter counterpart and think about putting scatter rugs down on tiled and wooden flooring and a few extra blankets on the couches.


Keep the pipes running –There's nothing worse than returning after a weekend of merriment to a cold sobering home with frozen pipes. With the heating on in the morning and evening whilst you are away you won't have to worry about freezing pipes.


Be prepared – Based on the last two years there's a very good chance that at some point over the next three months you will find yourself snowed in or with a power cut – potentially both. Make sure you've got the right provisions and if there is a power cut make sure you've got candles back up batteries and the phone numbers written down for your utility companies.


All in all this should help you make sure that the home really is the best place to be this winter.
By Victoria Finch National Marketing Manager
Published:
17 November 2011 at 04:11