Chris Bisson talks about Moss Side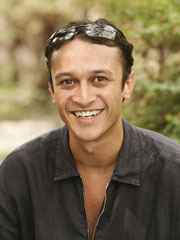 Those that can remember the dark days of the
Moss Side riots
in 1981 will know just how far the Manchester suburb has come since then. It's a world away from the run down council estate which made a name for itself as a place very few would dare go near. But today Moss Side has fought away many of its negative connotations and been transformed into a pleasant neighbourhood where community action is thriving.
The BBC has attempted to reflect this exceptional change in perceptions by commissioning a documentary. Local actor
Chris Bisson
who has starred in Coronation Street and Shameless programmes which reflect life in Manchester was asked to front the documentary charting the progress which has been made since the eighties.
Chris spoke to a number of people spanning several generations who remember the riots and commented on how things have improved. During filming Chris singled out our new homes development
Infusion
as a prime example of how developers and a council can work together to regenerate an area.
His father Mikey Bee a well-known community activist and one of the main organisers of the Moss Side carnival each year told us: "A lot of things have changed for the better.
Manchester City Council
has done a really good job with the regeneration of the area. Chris took the film crew to see the new housing developments being marketed by
Miller Homes
in conjunction with Manchester City Council and GB Solutions and he was very positive about it.
"For Moss Side what they have done is a major major thing because people can come and do cosmetic changes to the front of houses but what they have never done before is something on the scale that Infusion has done."
Mikey now believes it is crucial that other parts of Moss Side receive the same treatment as the Infusion development at Bowes Street so that the whole neighbourhood is regenerated to the same level.
"If Manchester City Council get all the other houses done to the same standard as Bowes Street – and maybe let some for rent as well – that would be extremely positive. What's happening there is wonderful and it's great housing." Mikey added.
The vision for the Infusion development was to create an attractive stable and successful residential area - a place that has a reputation for being a safe place to live and where diversity is celebrated. To be recognised in this documentary is a very proud moment for everyone involved including Miller Homes and it is incredibly rewarding to see how our developments can help improve communities around the country.
The programme with Chris Bisson was aired on BBC North West on 7/8 July. For more information about the regeneration of Moss Side take a look at the
Project81
article.
By Michaela Lancaster - Sales Director - Miller Homes North West
Published:
25 July 2011 at 09:07